Will Mubarak be able to keep his fortune?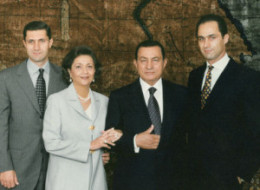 Now that Hosni Mubarak has stepped down as dictator President of Egypt, it will be fascinating from a business a criminal point of view to see what happens to the fortune he has amassed on the backs of his people.
But over the last 20 years, Mubarak, his family and his close circle of advisers have enriched themselves through partnerships in powerful Egyptian companies, profiting from their political power, according to numerous reports. The 82-year-old leader and his two sons also wield the levers of the government, including the military and the country's preeminent political party, to reward friends and punish enemies.

Mubarak — who stepped down on Friday in the wake of massive protests that have gripped Cairo and Alexandria for weeks — and his family have a net worth of at least $5 billion, analysts tell The Huffington Post. Recent media reports pegging the family fortune at between $40 and $70 billion are considered to be exaggerated.

Much of their fortune has reportedly been invested in offshore bank accounts in Europe and in upscale real estate. On Friday, Switzerland froze accounts possibly belonging to Mubarak and his family, a spokesman told Reuters, under new laws governing ill-gotten gains. Last month, the Swiss froze the accounts of Mubarak's ally, ousted Tunisian president Zine El Abidine Ben Ali, whose overthrow inspired the first protests in Cairo.
The family owns tons of real estate throughout Europe and the rest of the world, along with stakes in numerous companies.
If Switzerland starts getting tough with them, there will be pressure for the rest of the world to do so as well. This will likely get ugly . . .